Fisherman Throws Open
His Tackle Box Of Knowledge
An old fisherman once asked, "Do know what's the best time to go fishing?" He followed with his own reply: "When you have the time."
The time we have available to catch bass, trout, panfish, and any other fish that swims in rivers, streams and lakes, is limited. So why not maximize it? Here you will find those tips and techniques that will make anyone -- whether young or old, new or experienced -- have more fun fishing, which means catching more fish.
Freshwater fishing is an adventure steeped in mystery. The mystery begins with the first cast of the day. Will the fish be biting? One cannot say with any degree of certainty that they will be. But an angler who knows a few things can only increase the odds that when the fish are biting he, or she, is in the right spot, with the right bait and the right tackle to hook and land the fish that has been targeted.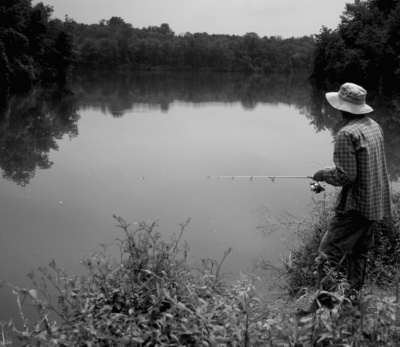 That knowledgeable angler might begin here by checking out the Fishing Reports for updates and news about fishing locations. Or the Fishing Tips for techniques and secrets. Here, too, are pages about Bait, Tackle, and Lures. And Videos from trips to rivers, streams and lakes.
Our hope is that you will find something here that will make you a better fisherman and enhance your precious time on the water. And as for me, I am closing this brief introduction by hanging out that well-worn shingle -- "GONE FISHING".